DMac shares his home improvement expertise
When it comes to home design, windows are one of the most critical elements of a home's exterior. Windows provide natural light, ventilation, and an important architectural feature that can greatly enhance the overall look of a home. In recent years, bold black windows have become increasingly popular among homeowners and designers alike. In this blog, we will explore 4 reasons why bold black windows pay off in terms of curb appeal and design.
1. Black Windows Dramatically Boost Curb Appeal
One of the main reasons that black windows are so popular is that they can dramatically boost the curb appeal of a home. Black windows create a modern, sleek look that is both bold and elegant. This color provides a striking contrast against traditional white trim and siding, giving a home a stylish, high-end feel.
Black windows can be used in a variety of architectural styles, from modern to traditional. They can add a touch of sophistication to any home, making it stand out in a neighborhood. Black windows also create a contemporary look that is perfect for homeowners who want to give their homes a fresh, updated appearance.
2. Black Windows Create Contrast
Another reason why black windows are so popular is that they create contrast against other elements of a home's exterior. Black windows can be paired with a variety of siding colors and textures, including brick, stucco, or stone, to create a bold, modern look.
This contrast is especially effective when black windows are used in homes with lighter-colored exteriors. The contrast between the black windows and the lighter colors of the siding creates a visually striking effect that draws the eye and enhances the overall look of the home.
3. Black Windows Generate Dazzling Views
Black windows are also an excellent choice for homeowners who want to showcase stunning views from their homes. Black frames around windows can help to frame the outdoors, creating a picture-perfect view from the inside. When paired with large, floor-to-ceiling windows, black frames can make a big impact on the appearance of a home. They provide a sleek and modern look while also drawing attention to the beautiful views outside. Black windows can be particularly effective in homes with picturesque views.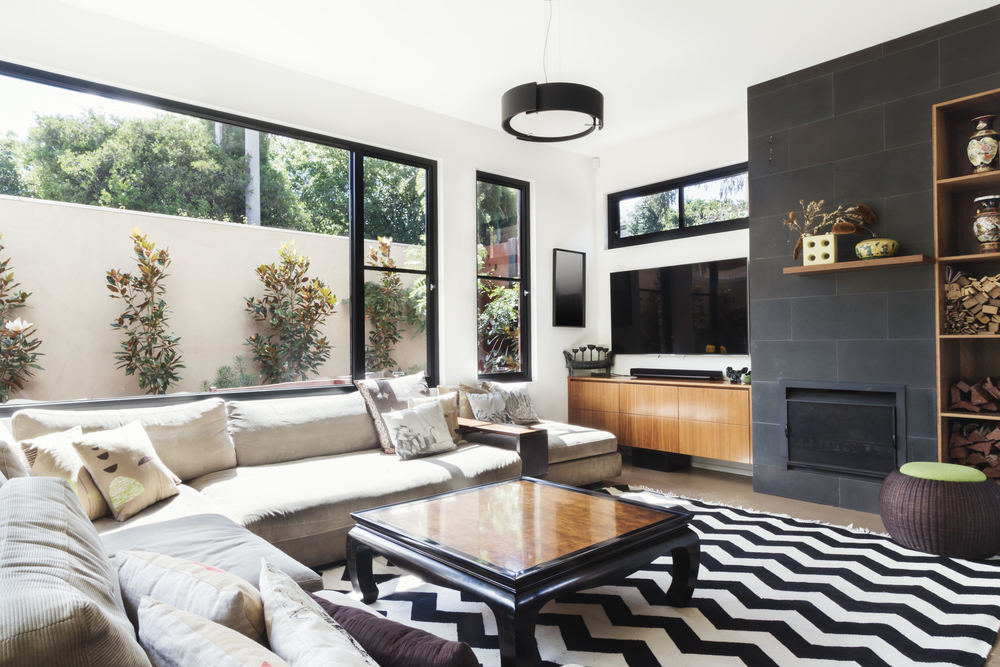 4. Black Windows Make Your Home Unique
Finally, one of the best reasons to choose bold black windows for your home is that they can make your home truly unique. Black windows are a less common choice than traditional white or wood-framed windows, meaning that they can help your home stand out from the crowd. When used creatively, black windows can be a striking feature that adds personality and style to a home. Whether used as a bold accent or as a major design feature, black windows can be a great way to make a statement with your home's exterior.
In conclusion, bold black windows are a smart choice for homeowners who want to enhance their home's curb appeal and design. They can create contrast, provide dazzling views, and make your home unique, all while adding a touch of modern elegance to your home's exterior. If you are looking to make a bold statement with your home's windows, consider choosing bold black windows for a look that pays off in style. Ready to go bold? Family Home Improvements is here to help! Call us at (562) 464-0684 or click here for a FREE quote!
Get a Free Quote
Family Home Improvement
Family Home Improvements has been in business for over a decade providing excellent services with experienced, well-trained, and courteous crews. Many homeowners have used Family Home Improvements and are now repeat clients, requesting expert help from Family Home Improvements with other aspects of home improvement, including room additions, door installations, and kitchen and bathroom makeovers.
A Five-Star Company

These guys are awesome. They did a coating on my house called "Texcote". I love it. My house has never looked better. The crew was great. They were Clean on time and very nice, and after they finished, Renzo himself came back to do an inspection and check to see if I was happy. Not many companies do that. I thought that was great. Definitely will recommend them, and I will use them from now on for all my home improvement needs.
-Victor G.
Let's Make Things Happen
We take the confusion, stress, and headache out of the entire home improvement process. Our team members walk you through the entire journey!
"Hired Family Home Improvements to paint my house. Renzo was there every day to answer any of my questions and keep me informed. Jose Luis and Jose were very professional and did a great job. They were very nice and worked with me on any concerns I had. Would definitely hire again and recommend."
Family Home Improvements Customer from Orange, CA