The Win-Dor Folding Door Solution

Win-Dor makes an innovative, durable, low-maintenance folding door system that is considered among the highest quality bifold doors in America. But don't take our word for it, you can see the Performance and Testing results below.
Our unique blend of strong rigid aluminum framing with a long-lasting, low maintenance vinyl capping creates a unique combination not available from other manufacturers. And one which is also thermally improved.
Elegant style, modern functionality.
A Variety Of Color Options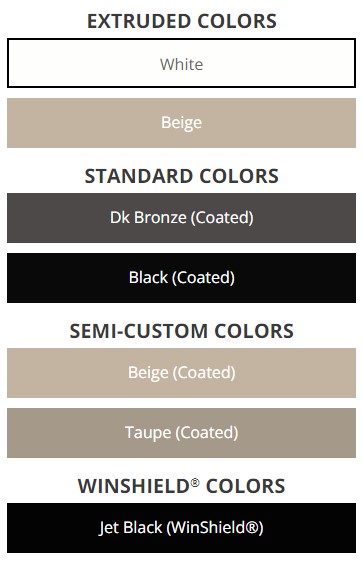 Every window and door manufactured by Win-Dor Systems is made from the highest quality 100% virgin vinyl available, extruded in either white or beige.  Colors are consistent throughout the products, hardened to stand up to the harshest elements and will never peel, chip or need paint.
A variety of popular painted exterior coating options are available.  Each color is bonded onto the vinyl surface and adds an element of heat reflectivity.  All of our painted finishes are scratch and chip resistant, made to withstand the elements and formulated for optimal energy efficiency.
Additional exterior colors are available.  The semi-custom color family of colors may require longer production lead-times.  Please consult the factory for additional information.
WinShield® is a specialty laminate made from multiple layers of durable and highly reflective materials. Each layer adds to its strength and heat reflectivity. The laminate is bonded to the vinyl using a specialized process. WinShield's unique technology performs incredibly well even in extreme environments. It is virtually maintenance-free, much more durable than traditional paints used by others, and provides a consistent color that can be carried across multiple products reducing variations.