DMac shares his home improvement expertise
The roof is the primary means by which your house is protected from the weather. So having a roof that is in good condition is important. However, many homeowners aren't always sure when it's time to change their roof. This blog will go over what signs will tell you it's time to replace your roof.
Inspect your Roof
The first thing you have to do to be able to determine whether your home needs a new roof is inspect your roof from both the inside and outside. Take a flashlight with you to your attic or to the space in your home where the interior of your roof is visible and look for the following potential signs that may indicate an issue:
Leaks: Inspect the interior of your roofing area for wet areas and potential leaks. If your roof has started leaking, then other areas of your home and its foundation is put at risk. Water dampness can lead to rot and mold growth that can contribute to breathing and other health problems
Beams of Light: Light beams are an easy indication of holes in your roof, meaning it's time for a replacement
Streaks and Stains: Take note of all spots, stains, and streaks. They can be indications of problems with your roof.
Shingle Issues
Inspecting your shingles is a good way to determine whether your roof needs a replacement. Look for cracks, misshapen shingles, and bent/curved shingles. Excessive shingle granule loss is also a sign that your roof's condition is not where it needs to be to provide maximum protection and insulation for your home. If you observe these issues with your shingles, then it's a sign that you need to replace your roof.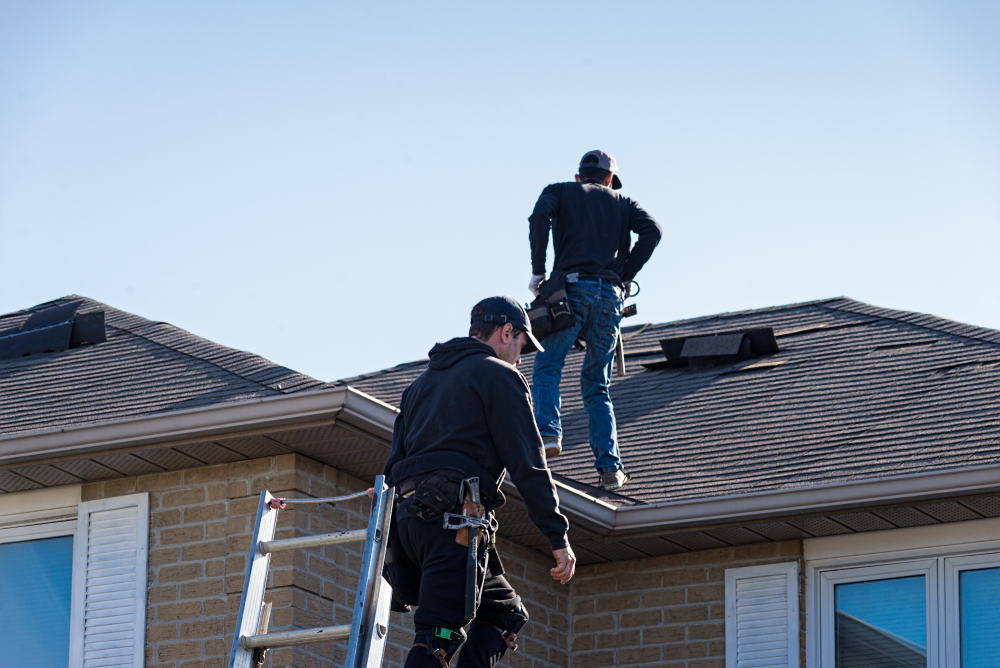 Rotting Roof
A rotting roof is always a sign that your roof needs replacement. If you notice multiple mold spots, damp areas throughout your roof, or the darkening of specific beams, your roof may be rotting or may have a dampness issue. If you also notice areas of your roof sagging or dripping with moisture, then it's time to change your roof. In some cases, it may be possible to replace and repair specific beams and areas of a roof that have been affected and impacted by water damage. But, in most cases, replacing an entire roof is highly advisable.
If a roof is dampened, soaked, or rotting and is left alone, then it can quickly turn into mold. As mold grows and begins to spread, it can get into airways, vents, and ducts. If it enters you home, it can cause many health issues such as bacterial infections, and pneumonia. You absolutely do not want your roof to reach this point, so roof replacement is a must.
Flashing
Flashing is common in vents, chimneys, and skylights which help protect your home from any type of weather. When you are inspecting your home's roof, be sure to check all flashing areas of your home to determine whether the areas are leaking or have cracks in them. It is also important to note that many old homes typically use cement flashing systems, which is considered outdated these days. It may mean it's time to update your flashing system as well.
Exposed Nails
When inspecting your roof, remember to always wear protective gear. Check to see if there are exposed nails on your roof. Excessively exposed nails can signify a potential leak or unwanted cracks in your roofing.
There are many signs that tell you that you need to replace your roof. While replacing an entire roof can quickly become a hefty investment, it is a foundational element involved in the building and structure of any home. Ask DMac any home improvement question you might have! If you see that it is time to replace your roof, give us a call at (562) 464-0684 or visit our website.
Get a Free Quote
Family Home Improvement
Family Home Improvements has been in business for over a decade providing excellent services with experienced, well-trained, and courteous crews. Many homeowners have used Family Home Improvements and are now repeat clients, requesting expert help from Family Home Improvements with other aspects of home improvement, including room additions, door installations, and kitchen and bathroom makeovers.
A Five-Star Company

These guys are awesome. They did a coating on my house called "Texcote". I love it. My house has never looked better. The crew was great. They were Clean on time and very nice, and after they finished, Renzo himself came back to do an inspection and check to see if I was happy. Not many companies do that. I thought that was great. Definitely will recommend them, and I will use them from now on for all my home improvement needs.
-Victor G.
Let's Make Things Happen
We take the confusion, stress, and headache out of the entire home improvement process. Our team members walk you through the entire journey!
"Hired Family Home Improvements to paint my house. Renzo was there every day to answer any of my questions and keep me informed. Jose Luis and Jose were very professional and did a great job. They were very nice and worked with me on any concerns I had. Would definitely hire again and recommend."
Family Home Improvements Customer from Orange, CA